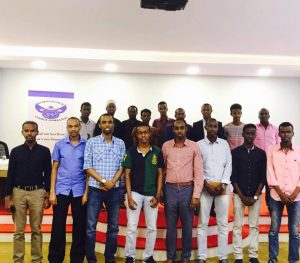 I have remained silent on National issues for a while for some reasons; hoping that time and seasons will justify me. The reason for this because I have come to realise that the social media remains the channel of venting our opinion and to be heard regardless of our views.
I was shared my views with friends on the social media to the fact that this nation needs strong Institutions not strong men. It is not about individual but about our institutions. If we fail to address the issues of weak institutions in Somalia, every progressive we need to achieve or successive government will use this same institution against their citizens.
The issue of the various tribunals or court of justice sitting on State (Upper House) or National Assembly (Lower House) elections and Governorship election in various parts of the country comes to mind. I initially had confidence and trust in these tribunals until a friend posed certain questions to me:
1. Is there any of the Judges who was called to serve unwillingly or did they looby to get appointed as a Judge in these court of justices?
2. Do you know apart from loobying to be a Tribunal Judge, they also looby to be posted to particular State(s) of the Federation?
3. Do you also realise that these Judges on arrival in their State of assignment; they pay courtesy call visit to the State Governor who in most cases are respondents in petitions before the Tribunal?
If the above are true and subject to individual investigation, how do you get justice in the system. In most cases except for Rivers State, the Tribunal sitting in most State of the Federation has never nullified the election of any sitting Governor. I am not going to make particular reference to any State but seems obvious that the Tribunals are cash and carry in their administration of Justice.
I joined the Somali VOICE organization for reasons of fufilling my dream, contributing to the development of Somalia. Yes. There are those who believe I should remain a progressive regardless of whatever is happening in my team then.
It is my kindid opinion and advise that we as Somalis and the governed should demand from our government stronger Institutions and not stronger individuals if we must move this country forward.